How To Get A H1 In Leaving Cert Maths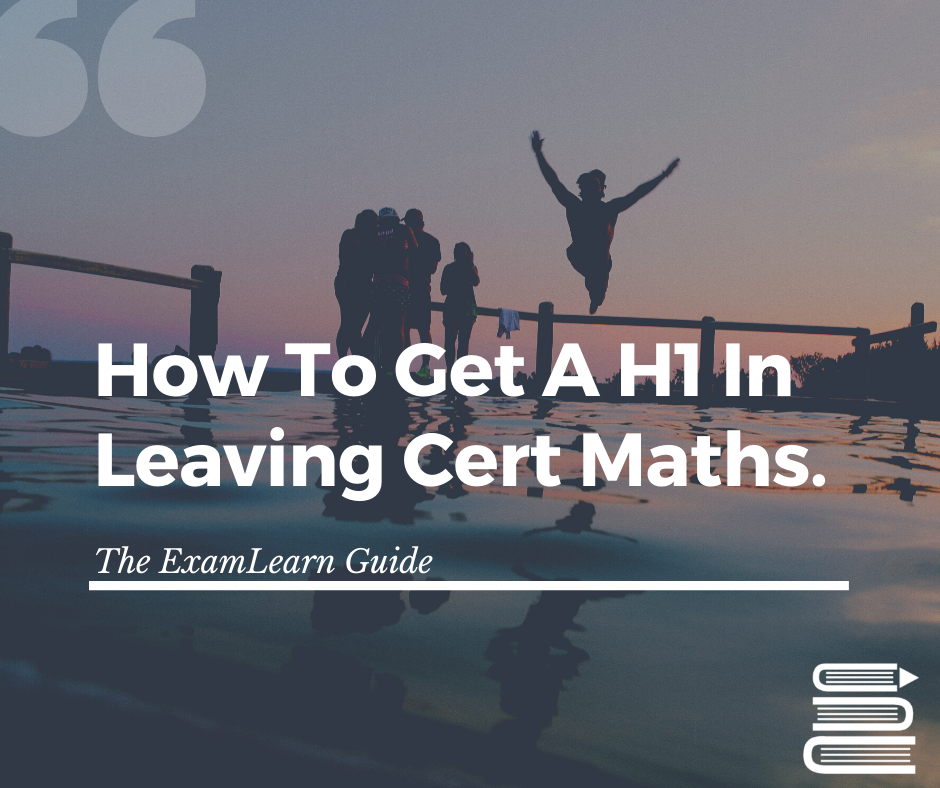 There are a number of steps you can take to increase your chances of getting a H1 in the Leaving Cert Maths exam.
1. Practise is essential.
The key piece of advice is to constantly practise maths questions. This is the only way that you will now for sure that you understand a topic. If you are getting them wrong, don't stress about it - just keep practising until you minimise your mistakes. There is an extra 25 points going for higher level Leaving Cert maths, so it only makes sense that you need to put in more effort.
2. Study your past exams.
Whatever exams or class tests you take, it is so important to dissect them when you get them back. You need to know where you went wrong so that you can identify where you may go wrong on the big day. The only way you can improve is by tackling the topics you struggle with the most.
3. Do not be afraid to get help.
It is not embarrassing at all asking your teacher or classmates about topics you find hard. As well as this, on ExamLearn, there are HUNDREDS of detailed videos available covering every single topic on the Leaving Cert maths exam with worked examples. It is by far the most helpful resource online for the exam.
4. Know every detail about the exam.
You need to know that paper 1 and paper 2 are each two and a half hours long, with 150 marks for section A on both paper and 150 marks for section B. The layout and marking scheme of the papers are so important to know perfectly before going into the exam. Time management will be vital during the papers so scan each paper once you get them to get an idea of how long you should be spending on each question. This all only comes with practise.
5. Get comfortable with section B exam questions.
The second section of each paper is the contexts & applications section. It can appear harder than the first section due to the long-winded nature of the questions, yet you should not be too stressed about it. With constant practise of the past questions of this section, along with studying the solutions, you should be well-equipped. Try to translate the words of the problems into basic maths at the start of every answer to simplify it. Practise the hardest possible questions you can find from this section, so that nothing can be impossible on the day.
6. Prepare for the unexpected.
A few years ago each paper had its set topics so it could have been viewed as being easier. However, they have changed it so that different topics can come up on different papers. You must be prepared for anything on the paper. You have to be comfortable with every topic going into paper 1 incase a topic that you believe can only appear on paper 2 comes up. They are trying to catch you out at every chance so do not let them.
Sign up to ExamLearn for access to our hundreds of detailed Leaving Cert maths videos and so much more essential content that will improve your grades today.
Need grinds? Try ExamLearn Grinds
With ExamLearn Grinds, you can get grinds from the comfort of your own home, with a tutor you know you can trust.
Open ExamLearn Grinds